For Elise Witt's My Salsa Garden Official Music Video Production, we happily danced in her inspiring garden, played in her flowers and danced with the neighbors.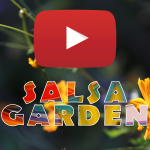 I was tickled to edit the footage, from Mick's jaw dropping pepper squeal to little Naya jumping in and out of camera. Creating this music video production (this is the first release for three that we are creating together) is turning out to be really fulfilling, creative and exciting work for me. This might all be obvious, given my love for music, storytelling and camera work, but this is the first opportunity I have had to create a series like this. My previous film projects have all been more documentary, and this is a little bit more conceptual with a storyline (kind of)! A real short film, telling the story of Elise's glorious Salsa Garden. I am so excited to share the beautiful fruits of our labor and play.
This video was recorded over two different shooting days and on each we used two different cameras. The first, we really focused on lyrics and garden imagery. Then, on the second, we brought out friends, family and neighbors to play! When editing the footage, we were able to select the camera that Elise' loved the most for portrait images of her, making sure that she felt beautiful and inspired by her own telling of her song. Our relaxed shooting style helped us to capture the quirky air instruments and camera jump ins!
Here are the official music video production credits!
MY SALSA GARDEN from Elise Witt's CD "We're All BORN SINGING."
© Non Si Sa Mai Music ASCAP
Filmed, directed and edited by Jessica Lily. (www.Jessica-Lily.com)
In the video: Elise Witt, E'yunni Hill, Naya Tatum, Daniel Jenkins, Milly, Jessica Lily, Mick Kinney
Music: Beverly Botsford (percussion), Marlon Patton (drums), Ken Gregory (trumpet, guitar, bass); Elise Witt, Sonia Osio, Terry Garthwaite, Becky Reardon, Beverly Botsford (vocals)
www.EliseWitt.com