Sara has recently completed her certification to become an Authentic Movement facilitator and is gearing up to start teaching classes at Cander Park Yoga this spring.
She needed some poster design work to have a marketing package to show off her work and get people excited about dance classes with her.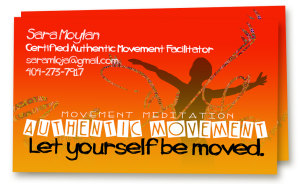 Her poster design project was not a huge scale for me, but it certainly was inspiring and fun.  We dreamed up some ideas for graphics for her over coffee and then she emailed me colors that she loved, and some thoughts on what was really special about her dance classes.  She brought in ideas about South American colors, wild imagery and of course, the dancer.   It took about 4 hours to  draft up her initial poster design.  I created a custom drawing for her graphic, based on a silhouette dancer, and then sketched colorful movement lines on top, thinking about the internal and external process involved with something like a movement meditation.  We did some revisions, like adding in hands and brightening up some colors.   Then we added matching materials, and she was all set!
Her package includes a design for single sided business cards, an 11×17 poster, 5×7 fliers in color and black and white, and of course, Facebook and event images for her online marketing.  She will use the poster images for a digital info graphic in Yoga Studio email newsletters and other online marketing.  Its a pretty simple set, but a really powerful and compelling way to talk about her Authentic Movement classes.